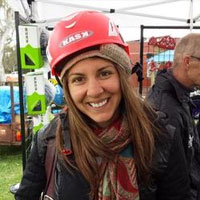 Liliana Meyer
Liliana left school in 1992 and went on to gain her chefs apprenticeship; she worked at Lilydale Private Hospital and ran the kitchen. She managed as many as ten staff and became quickly proficient at not only various culinary skills, but people and time management.
After 5 years being a chef Lil wanted a new challenge and took a position as an account manager at Amcor Fibre Packaging where she grew to love and excel at providing great customer service.
In 2007 Liliana and Dean set out on a European adventure that took them both on a 4 year trip around the continent. Working in several jobs including bar managing, painting and decorating and as a recruitment agent, Lil did it whatever it took to support her dream to travel.
In Norway Liliana worked in the landscaping division of two separate companies and assisted with landscape construction of a discontinued Oslo airport, turning the area into a pristine park and wetland reserve.
Liliana was never scared to get her hands dirty, in Hamburg she learnt to become a grounds person, quickly gaining the skills necessary to assist with the climbing arborists as they worked to prepare a 400 year old Jewish cemetery as it was to become a UNESCO world heritage site. Often in pouring rain and ankle-deep mud Lil battled through the elements gaining the respect and admiration of all of those around her.
Lil has a great passion for providing a consistently high level of customer satisfaction and goes above and beyond to achieve it. She believes the key to a successful business starts and ends with a happy customer, "Service with a smile is her motto." She assists Tree FX in numerous roles including, admin and marketing.
Lil loves all trees and all of nature she gives new meaning to term "tree hugger" and she loves spending time on her big tree swing in the back yard.